Witchborn de Nicholas Bowling
Hei, salutare. Esti gata pentru o recenzie de carte? Ei bine ai noroc. Astazi vom vorbi despre Witchborn scrisa de Nicholas Bowling.
Sumar:
Este anul 1577. După ce mama sa este arsă pe rug, pentru vrăjitorie, Alice se hotărăște să fugă în Londra. Aici își dă seama că vânătorii de vrăjitoare nu sunt singurii de care ar trebui să se ferească. Forțe politice extrem de puternice sunt, de asemenea, pe urmele ei în încercarea de a o atrage în disputa dintre regina Elisabeta I și Mary, regina Scoției. În timp ce Alice se chinuie să înțeleagă puterile pe care tocmai și le-a descoperit, este atrasă într-un hățiș de secrete, minciuni și magie neagră, care vor schimba, laolaltă, soarta Angliei.

Din moment ce este vorba despre perioada Elizabeth I, avem un context ceva mai istoric, insa Witchborn este un roman fantezist ceea ce inseamna ca precizia istorica, nu este exact la ordinea zilei. Aceasta este o reimaginare a acelei perioade, in care exista vrajitoare si se intampla o groaza de lucruri legate de magie.
Descrierile tenebroase lui Tudor London sau chestiile oribile care se intampla in spitalul Bedlam sunt atat de bine scrise, incat nu prea iti doresti sa calatoresti in timp pana in secolul 16. Nu este clar exact cum functioneaza magia, cum este data mai departe sau cum diferite tipuri de oameni o pot manipula. Totusi se poate intelege acest lucru, deoarece intr-un roman atat de scurt nu poti arunca o cantitate foarte mare de idei metafizice. Acest lucru poate crea confuzie.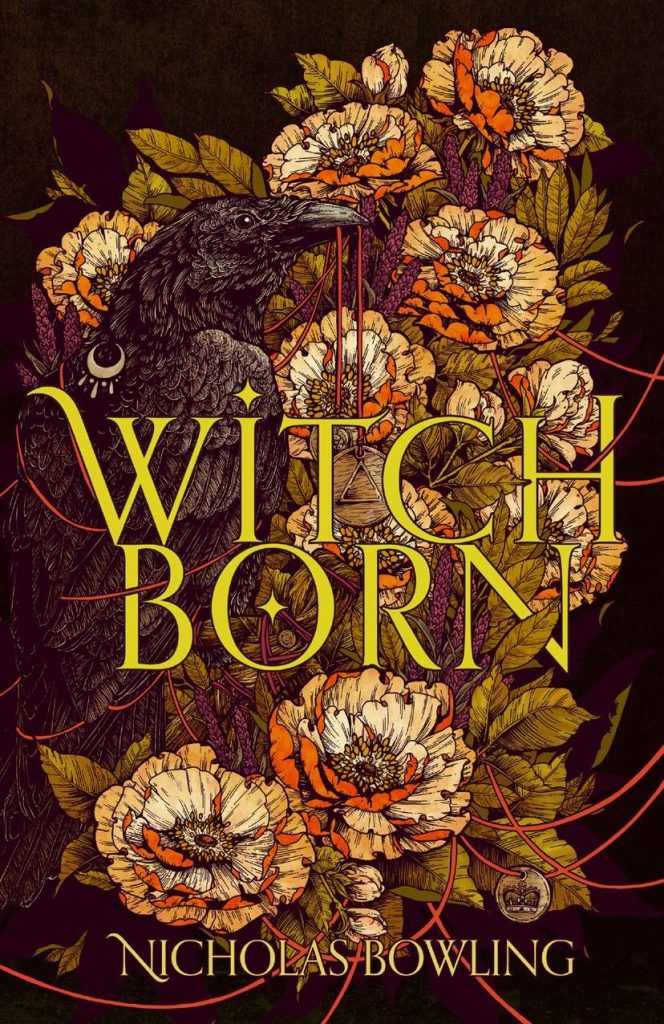 Cu toate acestea, ar fi fost de apreciat daca autorul ar fi dat putin mai multe informatii pentru a ajuta cititorul sa inteleaga punctele tari si limitele personajelor. In prima faza am crezut ca personajele din romanul Witchborn sunt mai bine conturate. Iti trebuie ceva timp de incalzire pentru a te obisnui cu protagonista Alice. Acest lucru se datoreaza faptului ca la inceputul cartii se intampla destul de multe lucruri, plus recuperarea personajului din spital sau fuga de acolo. Odata ce incepe sa isi dea seama de ceea ce se intampla si de ceea ce poate face, cartea devine din ce in ce mai captivanta.
Exista o sansa destul de mare sa placa mai mult personajele ce o sustin pe Alice, care dispun de niste povesti interesante. Te poti insa astepta la mai multe lucruri in povestea despre rivalitatea dintre Mary Queen of Scots si Elizabeth I.
Lungimea cartii este atat o binecuvantare cat si un blestem. Este mare lucru, pentru ca nu apuci sa te plictisesti citind-o si nici nu contine multe detalii istorice. Pe de alta parte, sunt cateva elemente in aceasta carte, sistemul de magine fiind unul dintre ele, care ar fi trebuit scrise putin mai detaliat.
Daca esti un fan al cartilor fanteziste, cu povesti despre magie and all that stuff, aceasta carte este una cu idei fresh care te-ar putea face curios in legatura cu ce va mai scrie Nicholas Bowling. De asemenea este o carte ok, daca esti fan al perioadei Tudorilor si iti place si fantezia. Acest roman este un punct de grozav de inceput.
Comanda cartea accesand link-ul – Witchborn de Nicholas Bowling
Sustine proiectul => Contemporary-Establishment
Servicii Foto-Video => https://bit.ly/2NHdcIX
Colaborari foto => facebook.com/TurcuDanielAlexandru
Intra in comunitatea sustinatorilor de arta contemporana printr-un Like paginii de Facebook